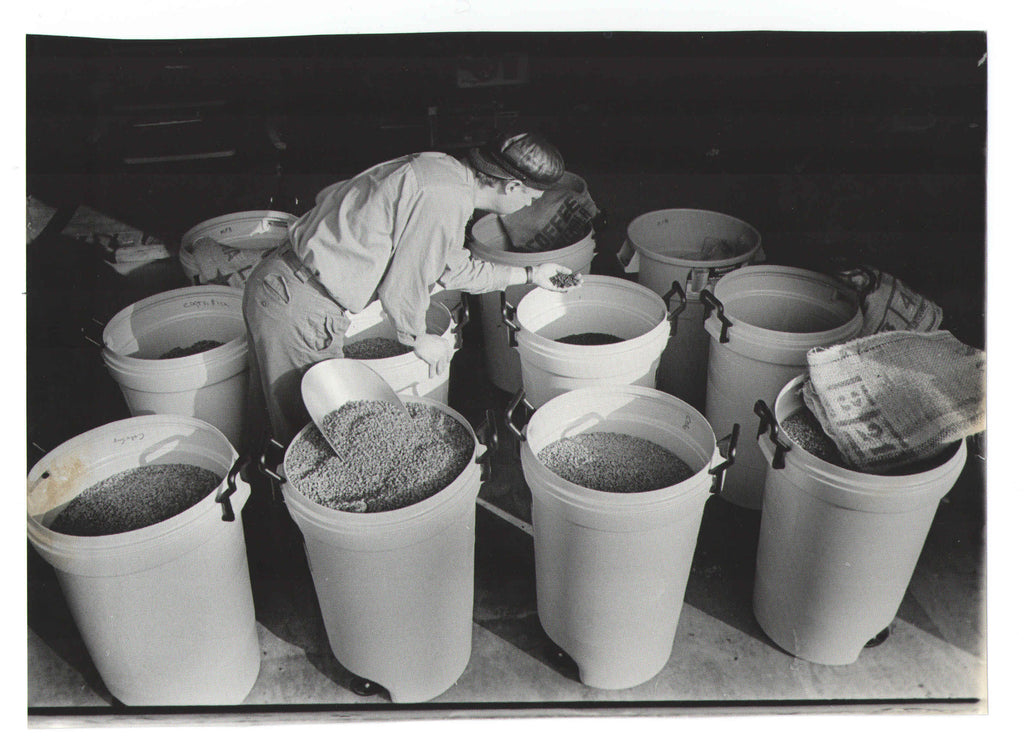 Raven's Brew Coffee® Stories—The Early Years
"Back when most people were trading their percolators for Mr. Coffees, Michael Beech was hot-rodding popcorn machines to roast his own coffee beans."
This late 90s quote from the Juneau Empire sums up the wild beginnings of Raven's Brew Coffee, Inc.® in the hazy, forested islands of Southeast Alaska. Raven's Brew® officially came to life in the fall of 1992, but our origins stretch back into the mists of the 1970s when the misguided yet fateful vacation purchase of a bag of green coffee by a Ketchikan, AK resident gave Beech his first bag of unroasted beans.
He started out roasting beans in the oven on cookie sheets, before moving on to a folding omelet maker that provided a sort-of roast chamber. Then came the popcorn machine, before finally a modified heat-gun—both home-made variations on the air-roasting process that Raven's Brew® still uses today. After being introduced to fresh roasted coffee in his teens, Beech knew he could do better than what was commercially available in his hometown of Ketchikan at the time. Even his rough, early methods of home roasting were an improvement. Before going into business, he would often invite friends to try his home roasts and bend their ears about coffee.
Our first commercial roaster, an electric fluid-bed air-roaster purchased from coffee legend Michael Sivetz, was installed in a friend's garage and Beech's meticulously roasted beans sold to a few local retailers. News spread, and an article in the local paper Ketchikan Daily News led to increased orders, but also scrutiny from local officials that forced Raven's Brew® into a new, commercial location. Disastrously, the change in location came with a change in electrical current going to the roaster—a custom transformer known as the Death Trap was required to reduce the current, twice bursting into flames before something more dependable could be found to produce the same effect.
Attention to details others would ignore demonstrated Beech's passion for coffee.
This ensured the high quality of Raven's Brew® roasts and set them apart from other roasters' coffee. Green beans were scrupulously picked through to find the one spoiled bean that could ruin a batch and remove it. Beech described coffee as "vivacious" and "profound" and wanted the design of his coffee bags to reflect the dynamic beans contained within that consist of more than 1,000 chemical compounds.
Teaming up with local Ketchikan artist Ray Troll, the logo was born: a raven rising dramatically from a cup of coffee amid clouds of steam—emblematic of the remarkable flavor and rousing effects of the coffee and symbolic of its Southeast Alaskan origins.
The combination of bold flavor and evocative label art set a tone for Raven's Brew® that continues to distinguish our coffee and our company—a dedication to quality, sustainability and culture™.
We are still driven by a love of coffee and a desire to offer a unique, enlightening experience through our beans and through our values.
Discover our unique coffee here!